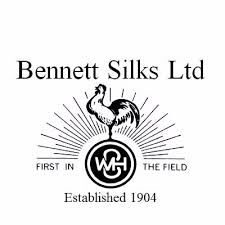 Bennett Silks is an English textile company with more than a century of history. The company is still family-owned. Nowadays its owned by two great-grandchildren of its founder, William Henry Bennett. Bennett Silks owners were among the first Englishmen in the 20th century to establish professional trade relations with the Chinese silk industry.
In 1987 the company for the first time presented collections of various fabrics for interior decor. And since then Bennett Silks fabrics are presented in two different lines - interior fabrics and fabrics for fashion (clothes). Besides they also offer collection of great backstraps for textile finishing (fringe, lace, brush holders and other frills).
Currently interior fabrics of Bennett Silks are first of all famous by the wide selection of colors and shades. You can find there a multitude of plain silks, silk velvet, silk jacquard and prints as well as silk organza various designs, embroideries and effects.